Glimpses from the past
In March 2003, a leading business magazine carried a cover story titled  "CAN THE SENSEX TOUCH 4000 in 2003?".  Now, that shouldn't have been a question of so importance so as to reach the front cover, especially when markets had already crossed that mark 10 year back in 1992. Surprisingly, of all the experts surveyed for the masterpiece, no one dared to predict a humble 4K mark for the beloved Sensex. 3,800 was their most bullish projection.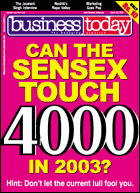 For the record, the article turned out to be good luck charm for the market and Sensex registered a whooping gain of 89% in rather short period of 9 months. With the benefit of hindsight, it can be said that is was not just that year but a beginning of 5 year bull rally that culminated in January 2008 with Sensex breaching 21,000. Moral of the story, none of the market pundits, at least those in public arena, were able to predict the coming bull run in stock market.  So, could be the case this time as well. Afterall, the Sensex had first time breached current levels of 17,000, 5 years back.
Back to the future
Feels  good to see 5% upside in broader markets since upward revision in our market outlook from neutral to cautiously bullish. We continue to maintain our bullish stance on the market, but are becoming increasingly cautious with every point rise in broader market.
Series of bad news continued to flow in since upward revision in our market outlook of which petrol price hike, depreciating rupee and weak IIP numbers occupied maximum public attention. Market eyes are now glued to RBI's decisions on interest rate on 18 June 2012. Given continued slowdown in industrial growth 25 bps cut in interest rate is almost certain and even 50 bps cut lies within the realm of reality. 
Rate cut, rating cut
Mr Market's excitement on probable rate cut by RBI is being subdued by S&P's cautionary on potential rating cut on Indian debt below investment grade.  Rating agencies have been behind the curve for the past decade with subprime crisis in US and sovereign debt related problems of PIIGS group standing epitome to their prowess. S&P's caution note only reiterated those issues, policy paralysis and rising fiscal deficit, that were already known for quite long. Hence, we don't foresee much impact of proposed rating cut signals on long term fundamentals.
Because of positive impact of RBI credit policy on interest rate sensitive sectors, falling crude oil prices and more because of the low prices that the stock are trading in current markets, we maintain our cautious but bullish stance on the Indian stock markets.
Grab these stocks before someone else
Please find below some of the stock that  we like with investment horizon of more than 12 months:
Allahabad Bank
BHEL
Can Fin Homes
Ganesha Ecosphere
GIC Housing
IFB Industries
Mahindra Satyam
Punjab and Sind Bank
Sintex
For detailed access on these companies and more such multibagger stock picks, please consider registering for our stock recommendation services.